"We have added new heads submitted by players in Avalonia Online! You can find the new shop on the left side of the map. There are new hair styles for girls, boys and vampires :D"
July 8 2015
Hair Shop of the West
Shop Info
Introduced on
West of Town of Heros
Items Stocked
Heads
Special Features(?)
none






Map

On the map, the shop appearance is identical to the first Hair Shop.
Interior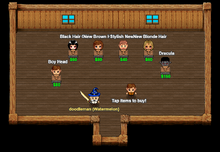 This is the new first hair shop of the new map, but second hair shop to be added. This shop contains six new heads which can be purchased.
Items

Boy Head, Black Hair Girl, New Brown Hair, Stylish Newbie, New Blonde Hair, Dracula.