Hair Shop of Heros
Exterior of the Hair Shop
Shop Info
Introduced on
Town of Heros
Items Stocked
Heads + Bodies
Special Features(?)
none






"Located in the Town of Heros, this shop will be first shop new players see."
Map

-To be added-
Interior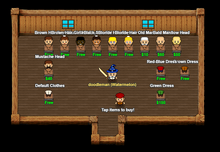 Inside there are many heads and bodies which can be purchased. New items were added prior to the creation of the second hair shop. It is suspected any future additions will be located there instead.
History